First of all, thank you very much for all the well-wishes that I've received over the past week.  Just last week, I've received some really great news from the Wedding Photojournalist Association (WPJA) and better late than never, they have ranked the photographers based on the points scored throughout the entire year of 2008 in their quarterly competitions.
I'm very pleased to announce to be been named as one of the top 5 photographers for the year!!!
This is probably the biggest achievement for me so far and unlike the quarterly ranking, this result will be etched permanently on their Hall of Fame here .  It's an honour to be ranked together with photographers like Shane Snider and Matt Adcock, and I love the works of these guys.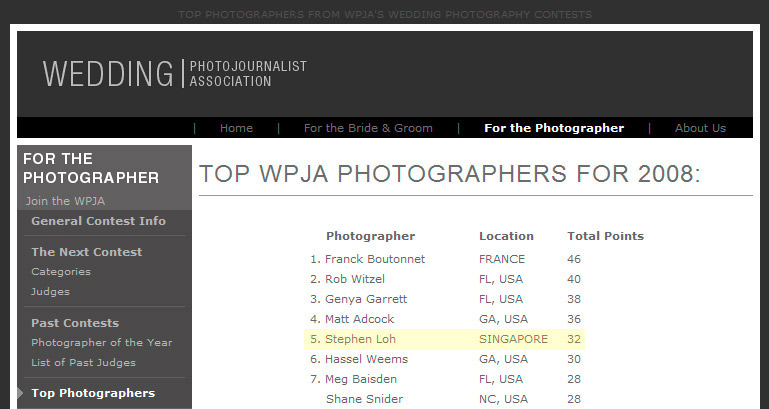 Good news come in pair and last month, the ranking for the Artistic Guild Wedding Photojournalist Association has placed me overall #10 for 2008 as well.
Once again, competitions like these are the best form of reassurance that our work are of certain standing in the International scene because they are judged by an overseas panel of substantial credibility.  WPJA in particular look out for the story-telling elements and how well a moment is captured, thus explains the panel of photojournalists and editors, some of whom are Pulitzer prize winners themselves.  In other words, it is far from any of the popularity contests out there that are based solely on voted by the consumers.
Now that I've settled down from the Hong Kong photoshoot and clearing up some the backlog, I can finally go celebrate with a bottle of Dai Jin Ju Sake that's waiting to be opened 🙂
Cheers!