The past two weeks had been really exciting, apart from the massive work preparing for print competitions, I was working with RadLab, the latest Photoshop plugin tools from TotallyRad! and here's my humble review of it.
Being a fan of TRA or Totally Rad Actions since 2008, I have been following the developers on twitter and RadLab is something that I can't wait getting my paws on…So what's the big deal about RadLab?
My setup
PC Intel i7 920 CPU @2.67 GHz
12 gig ram
Windows 7 Ultimate edition 64-bit
Photoshop CS5
Images used for this review are either shot with a Hasselblad H4D-40 or Canon EOS 1Ds mk III.   All images are edited in their full resolution.
The Stacking game
I love the RadLab interface!  The developers have certainly thought of how workflow is carried out, starting from Basic Adjustment from the top, the familiar TRA actions in the middle and sharpening at the button.  Do note that the order in which the effects are applied does make a difference – for example, the vignette from EZburn looks very different if it's place on top or below another effect say Pool Party.  It does take a bit of arranging to find out what's best for you and that's what RadLab is all about – mixing and matching the effects first, and then saving the formulas for images later.
This is one example of how I stacked 5 effects together.  The image is shot with a Hasselblad H4D-40, a 40 megapixels digital medium format system.  The raw file is rendered using Phocus, the Hasselblad's proprietary software before pulling it into RadLab.
*A little tip. Always start with an image with low contrast.  When I render my raw files, my black point is ZERO all the time and I do give a slight bump to shadow fill of about 10-20% to have the maximum shadow details possible.  Since most of the actions tend to add contrast to the image, working with a high contrast image will be tricky.
The histogram on the bottom right is a really nice feature, especially a kind reminder to go easy with the actions.  Click on the 'Finish' button and bang!  Check this out…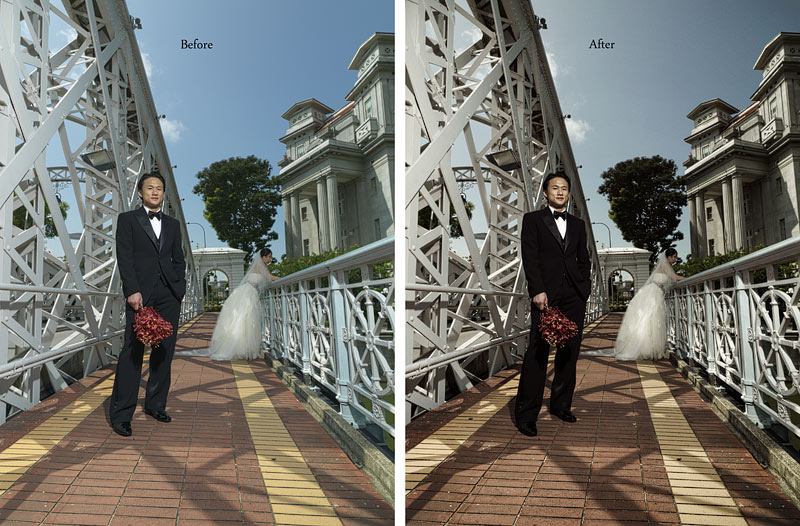 RadLab adds contrast, punch and character to the image; highlights and shadow details are well-controlled and  just look at how 3D the details are, especially subject's face and the building behind on top right.   I'm sure my clients who flew all the way from LA to Singapore for this photo shoot will be quite please to see this.
Here's another example that stacks 6 Stylets, just look at how easily we apply all these without cracking up the image…
Dejavu – Remembering and saving the settings
One of the neatest features of RadLab is that it remembers the last few recipes that you have used, and to top it off, you can even saved them as your own favourites!  Prior to RadLab, all my important work files are saved in un-flattened PSD format so that I can remember the opacity of each adjustment layer that I have applied, which also allows me to go back and make changes to it.  I cannot tell you how much memory space these PSD files do take up especially when we stack like 6 actions (especially the Hasselblad files in full-res), it's just mad, really.  The great thing about Radlab is, we can now apply the same effect over the same series of images for consistent results, without those additional space hogging layers!  This is also particularly useful when we are doing an album, a good two-page spread is really about the consistency across them and since all the images within are point of reference to each other –  it just takes one to be out of place to ruin the entire spread.
Black and White
Bitchin B&W and Boring Old B&W are 2 monochrome effects that I have been using since the first version of TRA back in 2008 and they are now amongst of the list of Stylets in Radlab.  The effects are now much easier to adjust, thanks to the sliders…and even bigger thanks to the fact that I can now apply easily the tweaked B&W settings across a series of images.  To add icing to the cake, the two familiar colour temperature adjustment actions Warm it up Kris! and Cool as a Cucumber, can be used to tone the monochromatic images warm or cold respectively.
Here's one example with BW Red filter (neutral)
Quick note: Warm it up Kris and Cool as a Cucumber at 60% and 70%.
Same Same but different
Those of us who are familiar with TRA actions would see some familiar faces in RadLab, such is Techno Color Dream World, Pool Party, Rusty Cage, etc.  There are some subtle difference between running the same action via TRA 1 or 2, and through RadLab itself.  Here's one example using Pool Party straight for both instances (no adjustments or tweaking to the layers), and while the character is the same, there's a slight difference in the contrast.
Things just get better
The good folks in TotallyRad! do take feedback seriously and implement changes and improvement to their product.  Rusty cage is one action that I find a real pain to use wholesale in TRA, shadow and highlights details tend to go wild, the glow, oh mine the glow…There's a good reason why there's a slider for the a lot of the actions that provides 'Glow' , check this one out:
Comparing it to the original image, it's a huge amount of drama and depth RadLab has added:
Other tasty and yummy Stylets that you can look forward are the Boutwell Magic Glasses.  Check out this image that I took at a destination wedding in Marrakech, Morocco –  ND2 filter was deployed and a single 400w strobe was used for the image.  3 different sharpening methods were used and here are the results in a glance:
One of my biggest issues with the original Boutwell Magic Glasses is that it adds halos to the image, especially in areas where there are high contrast;  Boutwell Magic Glasses II is a little more controlled and conservative, but it takes care of the halos; Obvious Glasses is the obvious choice here as not only does it add contrast to the image, it gives it a right amount of saturation boost here.  I can also see Obvious Glasses as a good everyday Stylet, useful for creating proofs for the customers.
My Wishlist for the next version…
Option for layer masking.  Ok, some of you might be saying "hey what's wrong with this guy, he just said he doesn't want those cumbersome layers and now it's on his wishlist??"   For me, I would love to have the option of the layer mask and apply the effect selectively…yes, more control when necessary.  This would be particularly useful for the Highlight Separator as this is one action that while it does what it does best, i.e to recover the highlights, it does mess around with the areas where the skin tones are.  Right now, I find myself having to duplicate the base layer (Ctrl-J), apply RadLab on the duplicate layer, and then adjusting the opacity of it to taste.  Readers might also like to know that I never like to apply an action or an effect wholesale without any tweaking or modification on my part – it's also faster sometimes to just down the opacity of the effects layer by 10%, rather than have to go through the whole processing algorithm again.  All I'm asking for is just a check box if we want to render the effect on a separate layer people like me.
Better vignettes controls.  EZBurn, the stylet used for creating a vignette around the image tends to cause a bit of banding, especially to the skies, even at very minute amount of 7%.  There are quite a good number of plugins out there that does a very good job with vignettes and this is one area that I hope to see improvement in.

My Verdict
So is RadLab worth getting even though you already have TRA 1 and 2? My answer is a big Yes.  Do we still need TRA 1 & 2?  Yes, we still do…  If only RadLab can incorporate Pro-retouch, f/zero and Greetings from Paradise, I would be a happy man…and I would really like to see the new Stylets in revised versions of TRA 1 and 2!
For those who are new to the TotallyRad! family, RadLab is a great introductory tool, think of it as a sampler before buying TRA 1 & 2.  For those who are already using TRA in their workflows, RadLab is a great platform and colour palette to encourage the users to think out of the box – no excuse for not being able to come out with their own recipes and concoctions.  The endless creative permutations and possibilities is what makes this software a joy to use.
Parting notes
Like all plugins, actions or Photoshop tools out there, RadLab cannot make a badly taken image look good, but it can make a well-taken and properly exposed image look really great.  I'm also aware that some folks are probably wondering why I even want to reveal what I use in my workflow….well, let's just say that each of us have our own unique vision, it's not what ingredients, but more of how we use it.
With that, I would like to congratulate and thank the team behind TotallyRad! for a job well-done, keep doing what you are doing, you guys ROCK and I look forward to more kick-ass products in the future.